BUS-3110-001
HW 1: May 15

GW 1: May 29

Midterm: June 3

HW 2: June 5

GW 2: June 24

Final Exam: July 5

BUS-2210-050
Term Test 1: May 15

Term Test 2: June 5

M-Mix Report: June 26

Final Exam: July 4

1-C / 2-D & faculty character browser
SEASON 2: EPISODE GUIDE AND SUMMARIES
AUTISTIC WEBLOGGER

jed david is a former UP Diliman student who is currently troubled living on the foreign soil and snow of Canada.
jed david is studying in the University of Winnipeg taking a double degree. He's taking business administration and applied computer science.
jed david is currently employed in office work and a part-time teacher *explains the laggy updates*.
jed david is afraid of blood. nosebleed + jed = bad chemistry. he used to be a business economics student who had troubles dealing with mathematics.
jed david is an anime and manga enthusiast who constantly craves for more... uhmm... anime and manga. He's a freelance journalist, freelance photographer, webdesigner and a musician (drums).
jed david is also an avid gamer.
layout & design:
kimikimkimster
blogged by:
kimikimkimster
powered by:
kimikimkimster
+
blogger
anime: school rumble
anime by: jin kobayashi
special thanks:
xebek @ animeblogger.net (season 2 recaps)
filehosting:
photobucket
+
imageshack.us
All trademarks and copyrights on this page are owned by their respective owners. This fansite / blog does not intend to infringe the legal rights of the respective owners. All materials contained in the blog are to be used for personal use(s) only.
Copyright 2006 - 2012. All Rights Reserved.
I do have a simple wish in life-- it's that one day the mangakas or the authors of the anime titles that I've chosen for my fansites could send me an email or a letter saying, "What a silly thing you've done." and that I hopefully had made them smile if they stumbled upon this Internet space. Not to mention receive something that's autograph too. I would be the happiest kid!
REL-2305 Medieval Christianity
Quiz 1 - September 21


Critical Response 1 - September 30


Quiz 2 - October 7


Critical Response 2 - October 23
Quiz 3 - October 28
Quiz 4 - November 13
Critical Response 3 - November 25
Final Exam - December 11

ACS-2816 Health Information System
Assignment 1 - September 24


Assignment 2 - October 13


Midterm - October 20
Assignment 3 - October 29
Slides Submission - November 4 @ Noon
Paper Presentation - November 5
Paper Presentation - November 10
Assignment 5 - December 1
Final Exam - December 16

ACS-2906 Computer Architecture and System Software**
Lab 1 - September 18


Lab 2 - September 25


Lab 3 - October 2


Assignment 1 - October 6


Lab 4 - October 9


Midterm Exam - October 16


Assignment 2 - October 27
Final Exam - December 8

BUS-3260 Retail Management
Term Test 1 - September 23


Case 1 - September 23


Case 2 - September 30


Case 3 - October 7


Term Test 2 - October 14


Case 4 - October 14


Case 5 - October 21
Case 6 - October 28
Case 7 - November 4
Retail Report - November 18
Case 8 - November 18
Case 9 - November 25
Case 10 - December 3
Final Exam – December 9*

ACS-1803 Webdesign Development**
Assignment 1 - September 23


Assignment 2 - October 16


Midterm - October 21
Final Exam - December 9*

* Tentative
** More due dates to be added
Used my day off by concentrating on webdesigning my first fansite for this year's project. I received an email that my Sunday shift has been canceled, because the field will be closed. It's a good news. My cousin also created page dedicated to our MMO project. I thought that it was too early to tell everybody of our plan, but apparently, he just wants to set it up and give everyone a heads up. I'll put this judgment into their hand.

I realized now that I have a lot of projects to do this year. And then there's the writing and the creation of my videogame. 2014 is loaded is loaded, and if I keep on it, I'll be busy for the first half of the year. Anyway, January is fast ending and I'm feeling nervous for February. Excited and nervous. No, I'm anxious of February.

Labels: 365-project
I had to re-design the first fansite I'm building, but I'm pleased with the result. I turned the computer off at 3am. I lied on my bed and turned my laptop on so I can check my social media on the comforts of my bed before going to sleep. My friend, Jerx, sent me an email about the character concept art I requested around 4am. He draws awesome sketch and I don't mind paying him. I was pleased with his drafts. I watched some videos and anime, and I wouldn't sleep until 7am. I couldn't sleep right away. What's new? This is the result of lying in bed all day yesterday. But I can't help it. There's nothing to do when the winter is too cold.

I got up at 3:15pm. And I left for work at 4:13pm. The bus was a bit late, but I wasn't late. I received an email from work that this week's going to be super slow. I needed that. They canceled my shift tomorrow, and I'm happy. You can really tell that I don't like my work anymore, huh? Anyway, today's shift was on the hard side. So far so good. I'm thinking I'll buy my textbook tomorrow. The only thing that's stopping from dropping the course is the amount I paid for my tuition fee and that I need the 3 credits to achieve half of the total credits I need to graduate. Thinking that I've completed half of my requirements is a great motivator, but my current circumstances while getting there don't look good. Work wrapped up somewhat okay, but it could've been better.

There's a lot of birthdays today. My cousin, my friend from high school, another relative, and another classmate. Unfortunately, it fell on a busy Tuesday.

My eBay order got pushed back two months this time. I had it canceled and refunded, so I can use the money for my textbook. But I'm still interested and I let the seller know when it's available in March. This'll give me options. I want that figure; it's a Heather figurine from Silent Hill 3. It's rare, man! I have to have it, but instead of having my money sitting, I need to use it towards current matters. I just shake my head why my textbook is so expensive.

Labels: 365-project
I've officially started designing my new fansite. I'm afraid I can't divulge the anime yet, but I have picked 4 titles this time. I will be parallel processing them, because I think I can pull it off; they also share the same theme. I'm already taking screenshots as contents so I can put them up on the fansite when it is published. As for my newest addition, the Say I Love You fansite, it served as a stepping stone and I will continue running it.

Speaking of projects, we're planning to create our own MMO server. We have PKO in mind, and we're in the process of building our team. Logistics have to be set up first, like shift rotation and funds management, before we get technical. My cousin has done it before, so I'm interested in the feeling of running an MMO. It will not be a business venture. It's just going to be a hobby. We want to build our own world and our own events too.

I just lied in bed all day, and I had the motivation to do something around 11pm. It was bad I tell you. I really don't have the motivation to go to school or to go to work, because January's taking its toll on me. I don't know why I feel this way, maybe because my friend quit work, or maybe because the course isn't interesting; or perhaps I'm excited to fly home. I miss everyone in the Philippines. It has been 7 years and I miss my friends and family there. I'm just enduring my work so I can save money. Although, my future here in Canada is brighter. I just need to spend some time with them as I am a human being.

Labels: 365-project
I chose to stay at home today. I'm feeling the brunt of my mistakes right now while I'm typing this. Just one thing's for sure, February's going to be a busy month for me. There's the midterm next week, February 6. I also chose to put my load on February as I'll have four weekend shifts. I did this, because I felt making January an laid back and slow month for me. And I think it's fine to have the two week grind next month before my university reading week -- one week break. It's all good. I'm also testing my current workplace how accommodating they are. I've worked for them for four years, always doing my best, and I want to see how they respond to my recent absence. I also wanted to challenge myself this way. I'm writing this down now so I won't get lost while in this 2 week grind. You're also doing this for someone. February will be special.

Labels: 365-project
Saturday. I didn't go to work and called in sick because of the flu. I slept in the afternoon and I had a scary dream. I've been having a lot of scary dreams lately. Is it common to experience three attacks of sleep paralysis in one week? I had a dream involving me waking up and falling unconscious in my sleep three times, and then I recognized what was happening. I tried rebuking it, and I woke up. I has another dream of going to my parent's room, because that I'm hearing strange noises, like someone rustling at the gate, running inside the house and I thought they'd be thieves or not. I woke them up and told them about it, my dad stood up and got up, but my mom was talking to me and there was no sound. She kept talking, but there was no sound until I saw a vision of someone that shouldn't supposed to be with us. That's when I recognized that it was a dream and then I just had to wake up. And then the most recent involved me in my lying on my bed and some force was slowly removing my blanket. I couldn't move as I lied flat on bed without my blanket anymore. And then I saw my brother floating on air twitching his hands and his head. It was scary, and I thought of telling my parents about it. It could mean something. And I had an idea what it meant, because of what we're experiencing right now as a Christian household. It's truly a weird week.

Labels: 365-project
SCHOOLRUMBLOG
SchoolRumblog, is a dedicated School Rumble personal fansite / blog. I chose SchoolRumblog to be the gateway for me to share you my wallpapers, avatars, bios, screenshots, etc. It's an experimental fansite that'll blend ideas old and new for the fans.

SchoolRumblog is a non-profit site that aims to promote School Rumble. It has been made possible thanks to its fans around the globe.
NAVIGATION
TAGGERBOARDERMESSAGER
BLOGPALS
RECENT ENTRIES
CHRONICLES
WALLPAPERS
AVATARS / ICONS
BLOGHOP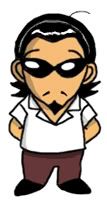 MY PET STAVROS'
IN HIS SANCTUARY